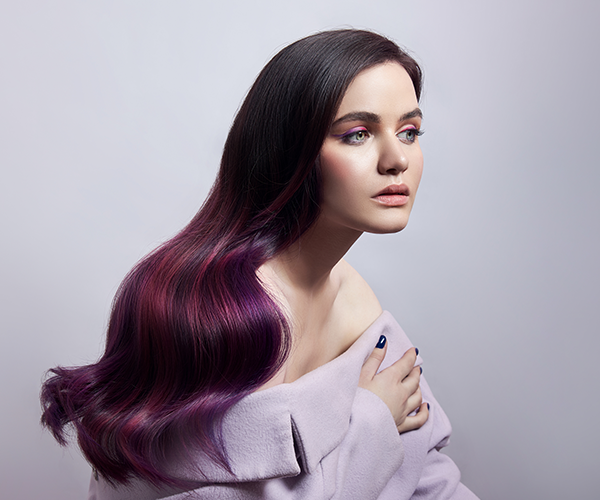 Your hair is your crowning glory – treat it as such with a premium hair colour service.
If you're looking to change your style, then a professional hair colour service could be just what you need.
We offer a wide range of hair colour services that will help you get a beautiful new look.
Whether you want to create a splash of colour or just give your hair a subtle change, we are here to help.
We Offer a Range of Hair Coloring Services
Don't settle for ordinary when you can choose from our quality range of hair colouring services.
Our wide range of hair colouring services are designed to suit all styles, from something subtle to something more dramatic.
We can help you achieve a variety of looks, including:
Full Head Colour
Full head colour is precisely what it sounds like. We will give your hair a complete colour change with this service, from the roots to the ends.
Full Head Highlights
Highlights are a great way to add extra dimension to your look. As opposed to a full head colour, full head highlights add dimension to your hair by lightening small sections of hair throughout the head. If you're looking to add dimension without lightening your hair colour, we can also add lowlights to your look.
Balayage
A balayage is a subtle, natural-looking colour that is achieved by creating a colour gradient. With a balayage colour, we will gently blend small sections of your hair to create an even, natural-looking colour.
Regrowth Touch Up
If your hair has been coloured previously, you will have some regrowth over time. With a regrowth touch up, we will gently blend colour into any regrowth, bringing your colour back to your desired look.
Ombre
Ombre is a popular, trendy hair colouring technique that can be achieved with a range of shades. We will gently blend your hair from the roots to the ends to create a natural-looking, gradual gradient of colour with an ombre colour.
Hair Colour Corrections
Whether you've done an at-home hair colour that didn't turn out the way you wanted, or you received a service that just doesn't sit well with you – a hair colour correction could be the solution.
Each hair colour correction service is tailored to you, and we will work closely with you to achieve the look you want.
Why Choose Cutters Hairdressing for Your Hair Colouring Fantasies?
In addition to our range of hair colouring services, we also pride ourselves on our customer service.
At Cutters Hairdressing, we know that your hair colouring experience should be fun, relaxing, and enjoyable. We use Wella, a well known and one of the top names in the hairdressing industry for colour across all our salons.
Highly Skilled Staff with Plenty of Experience in Hair Colouring
We are committed to creating a welcoming, friendly and professional salon environment where you can relax and enjoy your experience.
Our hair colouring team is highly skilled and has plenty of experience in a variety of hair colouring techniques.
Commitment to Appointments and Our Customer-First Approach
We're committed to our clients – we won't leave you hanging. We will deliver the hair colouring service you deserve.
We understand that your hair colouring experience is a huge commitment. We also understand that you want a service that is well-planned, well-executed and well-priced.
With us, you'll have the assurance that you're in good hands.
FAQ
There is a lot that goes into a professional hair colouring service. Still have questions? Here are some answers to the most frequently asked questions we receive:
Should I Have Highlights or Full Colour?
This will depend heavily on what kind of look you want to achieve. While both can completely alter your current look, highlights are a more subtle change, while a full colour will give you a more drastic change.
Should I Get Half or Full Head Highlights?
This depends on the change you are looking to make. A full head highlight will give you more dimension than a half head highlight. If you're looking for a more subtle change, then a half head highlight is better.
Can I Colour My Hair When I Am Pregnant, Trying to Conceive, Or Nursing?
Due to the number of chemicals that go into colouring services, we suggest that women proceed cautiously. Small doses of these chemicals have not proven to be harmful to pregnant/nursing women. We, however, recommend that you consult your healthcare team.
Do Highlights Fade Back to Natural Color?
No – since highlighting hair lightens it, there is no way for it to fade back to its natural colour.
Do Highlights Damage Hair?
Highlights can cause some damage through the lightening process.
Do Highlights Cover GREY Hair?
Highlights are not intended to cover grey hair. Instead, highlighting is used to blend grey hair – giving the individual a more natural, youthful look.
What Is Colour Blending for Gray Hair?
Colour blending is a technique that helps to hide greys by either highlighting or colouring the surrounding hair to give you a more natural look.
What's The Difference Between Full Head Colour and Full Head Foils?
A full head colour is just what it sounds like – a full application of colour. Full head foils is an application of highlights or lowlights throughout the hair, helping to add dimension to your current hair colour.
Will Full Head Foils Make Me Blonde?
No – a full head foils is intended to add dimension, not colour your entire head. To achieve a full head of blonde, you'll need a full hair colouring.
Do I Have to Wash My Hair Before Coming to The Salon?
No – We wash hair for every service that we provide.
Do You Have Parking Spots Available at Your Salon?
Yes! There are plenty of parking spots in the shopping center.
Other Related Services
Looking for other related services to help you achieve your hair dreams? Here are a few of our additional services:
Hair Extensions
Hair Treatment Services
Hair Cutting Service
If you're looking for a stunning hair transformation of your own, then contact us today to learn more about our available hair colour services.